WEDDING TIPS FOR BRIDES
The following are a few tips that I have learned over the years that may help you better plan and prepare for your big day.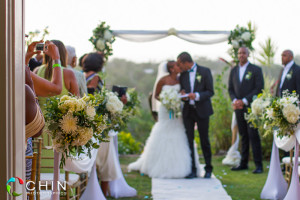 EXPECT THE UNEXPECTED
Every wedding is unique and has its own unique challenges. That could mean forgetting something important like the rings, or a piece of your dress, or having your wedding run off schedule because your mother-in-law was running late. In any case, you have to accept that some hiccups are bound to happen. You have to keep an open mind and allow your wedding to simply be what it is. You would be surprised at just how well things can turn out if you allow the spontaneity and magic of your day to take control.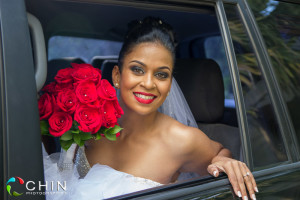 TRAVEL AND TRANSPORT
I always recommend to travel with space for the photographer. If possible have your photographer or his assistant ride in the car with you on the way to the ceremony or even the reception. This way the photographer will be able to capture some of your most intimate moments with you and your bridesmaids. These moments are often missed by most photographers.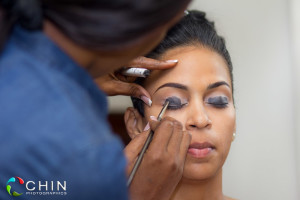 HAIR & MAKE-UP
Hair and make-up can account for a very large chunk of your day. This depends on the number of bridesmaids and make-up artists themselves. Some make-up artists are able to work quickly and efficiently while others are more circumspect in their approach. I recommend contacting potential make-up artists in advance and schedule a 'test-run'. This way you will have an idea how your make-up will look and how long it will take. You can also explore hiring more than one make-up artists to cover your bridesmaids if you have a large bridal party.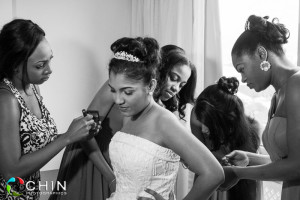 GETTING READY
You have the power to decide if this will be the most chaotic part of your day or a more laid back type setting. You have to decide if you want to get ready alone or with a few of your closest friends and mother. Most times the room is filled with people who are all giving directions. This can lead to confusion and overcrowding which can negatively impact how these photos look. I recommend striking a balance of having a few of your closest friends to assist you but not too much to impede on your space when your individual portraits are being taken.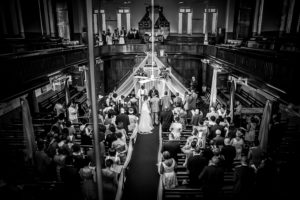 THE CEREMONY (CHURCH)
Different churches have different requirements where photography is concerned. Be sure to check with your church or officiant to find out if there are any rules or restrictions (e.g. flash). I am able to adapt to any situation and still deliver high quality work, however it is important that you and I know what the requirements are so that we know what to expect.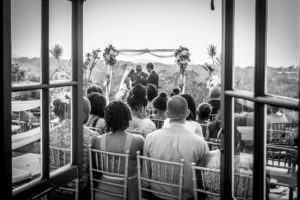 THE CEREMONY (OUTDOORS)
Outdoor ceremonies are fun! They can however be disastrous as mother nature sometimes have a mind of her own. I recommend having a back up plan in case it rains. Depending on the time of day, the sun might be harsh so you have to bear that in mind. I generally recommend starting an outdoor ceremony at 2:30/3:00 pm. This gives fabulous light which is good for skin tones. Furthermore this gives enough time after the ceremony for your family and formal photoshoot.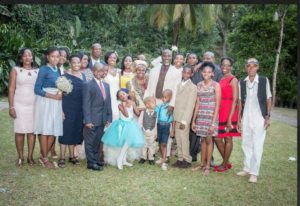 FAMILY & GROUP PHOTOS
I strongly recommend taking family group shots immediately after the ceremony. I would suggest having an assertive family member from both sides to organize the families into groups so that the process can go smoothly. You can have the officiant make an announcement at the start of the ceremony so that everyone is aware. If you wait until during the reception then the lighting may not be very good and some persons may have already left.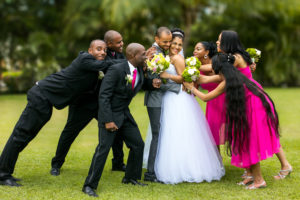 FORMAL PORTRAITS
My favourite part of the wedding day is the formal photoshoot. This where you guys get to be alone (along with your bridal party) to get some creative and interest shots. I recommend a minimum of 30 minutes for this session. This can take up to 90 minutes sometimes depending on the size of the wedding party. During this session I do my best to guide you through the process while taking suggestions and ideas from you and everyone else. I do not recommend having anyone other than the wedding party around during the formals. Too many people will have their own opinions about how your photos should look and this can lead to chaos – TRUST ME!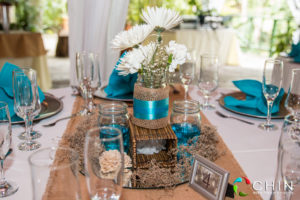 PUT ME ON YOUR GUEST LIST!
I cannot stress this enough! This is important for a number of reasons. First, if you are getting married at a secured location I will need clearance from security to enter the venue. Secondly, if I have an invitation like everyone else I would already have been able to creatively photograph your invitation in advance. Thirdly, this guarantees me a reserved seat among the guests which means I will have all angles covered. Finally, it guarantees that I am fed. This is critical as I will be working all day without a chance to eat. Food makes me happy and once I am happy you will be happy too! LOL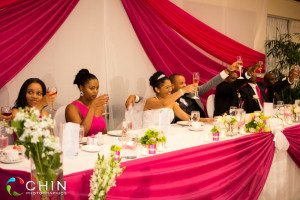 INDOOR RECEPTIONS
Different indoor reception venues have different setups. Some are dark, while others are bright. I personally recommend an indoor venue that is well lit (preferably with a white ceiling). The more light, the better your photos will look! Try to stay away from venues painted green and orange.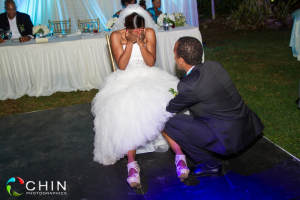 OUTDOOR RECEPTIONS
Outdoor receptions are bit more challenging to photograph, however if this your option I still got you! I would recommend adding as much light as possible. Things like candles and small lights will make your shots more interesting and give more dynamic dimension to your images. Without lights and background details, you will be left with black nothingness in your background. If the reception takes place before dark then you have nothing to worry about – this would be ideal.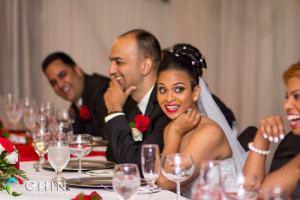 RECEPTIONS IN TENTS
Some of my best reception photos were taken in tents – white tents. With the tents, the white works beautifully with my flashes to give your images that extra pop. You can spice things up a bit by adding more lights – chandeliers, candles, lanterns, or any other small lights that will add a nice touch.